Potters' Skin Butter Collection
Harper's bazaar may 2021 Beauty Issue
Mentioned by Ceramicist Tracie Hervy in Pro Shop: Hand Cream
Tracie Hervy is a ceramicist with a studio in Long Island City, Queens. She studied pottery at Greenwich House Pottery in NYC and earned her MFA from Rhode Island School of Design. Her minimalist, architectural pieces are stripped of decorative elements to reveal the stark, elegant beauty of the form.

Learn more about Hervy and see where to buy her work HERE.

This is an excerpt from her interview for this issue of Harper's Bazaar with Ariana Marsh:

 " 'I wash my hands 10 times a day or more, and if I'm working with clay that has grog in it, it's brutal.' For relief Hervy turns to Cara Mae's [Potters'] Skin Butter, which was created by and for potters. 'It's moisture that lasts. You can use a little, and it's not greasy or oily -- it feels like your hands should feel.' "
Photos by Allie Holloway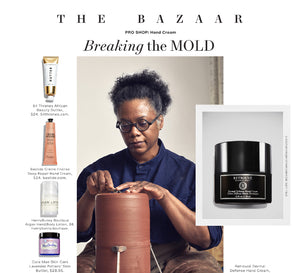 Testimonials
"Hi, Cara -- thanks so much for your note! I really appreciated it. And I'm so happy to have read about the potters' skin butter in Bazaar -- I have sandpapery gardener's hands at the moment but used to take pottery classes in high school so the description of working with clay with a lot of grog in it brought back vivid sense-memories! Anyway, I wanted to let you know that I love the butter, and was very touched by your note. All best, Diane"

-Diane Cardwell, a founder of Vibe magazine, is a former reporter and editor for The New York Times. She is also an author and surfer. https://dianecardwell.com
"As you can probably assume, I'm not much of a skin care guy, but I got this cream from a potter in my class last weekend and it's actually awesome. I'm not making any money off of this either just so you know... it's just really great stuff."

-John Britt of JohnBrittPottery.com
"I have very sensitive, dry skin on my hands. I am a physical therapist, so I wash my hands frequently at work, your cream really helps! Thank you for such a great product."

-Virginia Renegar, physical therapist in Pittsburg, PA